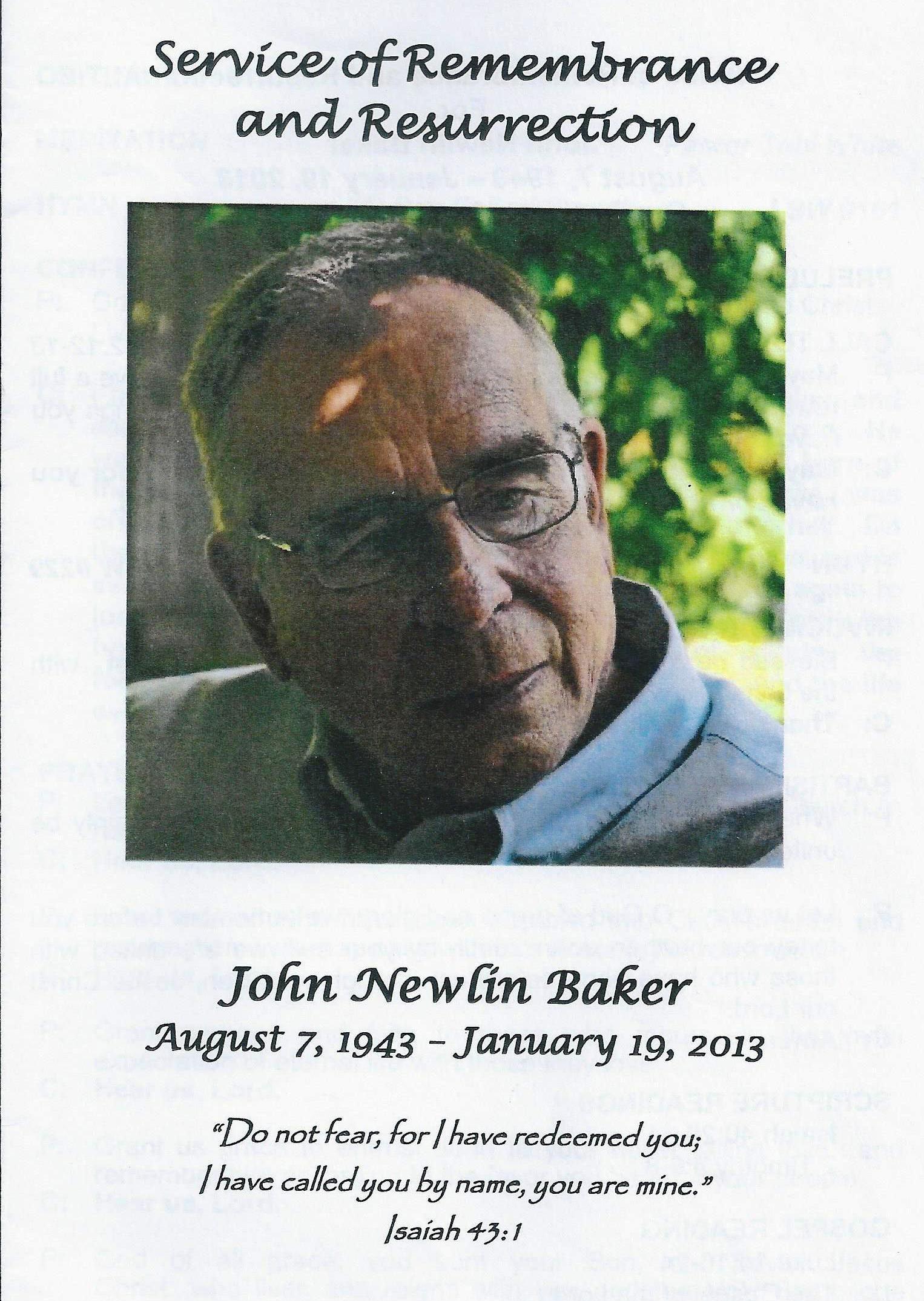 BAKER

John Newlin Baker,

69, Lincoln, entered the arms of the Savior ' on Sat., Jan. 19, 2013. Born Aug. 7, 1943 in West Grove, Pa. to Willis and Evelyn Baker. John enjoyed camping, biking, skiing and the great outdoors. As a young boy he spent hours exploring the family farm. John had numerous pets he adored. They were his companions over the years during his illness. An avid collector, he loved spending the day at auctions. Lover of art and music, he was an active member of the church choir and attended many concerts and art exhibits. He was an avid reader, reading a book a day, specifically about history. He had a passion for politics and investing. He enjoyed UNL sporting events and attending baseball games. Everyone wanted to be on John's team for Trivial Pursuit. His knowledge was vast and humbling. John graduated from Octorara High School in Pennsylvania, class of '61. He served in the Air Force from 1961-1981 as an electronic warfare system technician. In 1981 he became a field engineer for General Electric. Received a bachelor's degree in psychology, University of Maryland and a bachelor's degree in horticulture,

University of Nebraska-Lincoln.

He is survived by his wife, Gloria (Gidge); step-son, Byron Haas; step-son and wife, David and Rose Haas, Lincoln; brother, William Baker, Christiana, Pa.; step-grandchildren, Miriam and Rachel Haas, Colorado; Rebeccah Haas, Lincoln; Rico Cruz, New York; and many nieces and nephews. He is preceded in death by parents, Willis and Evelyn; sisters, Nancy, Barbara, and Carol; and brother, George.

Services: 1 p.m. Thurs., Jan. 24, at Our Saviour's Lutheran i Church, 40th & C Streets. Family requests casual, happy clothes be worn at the service. No viewing. Inurnment at a later date in Pennsylvania. In lieu of flowers, memorials to Our Saviour's Lutheran Church Music Fund, 1200 S 40th Street, Lincoln, NE 65510; Capital Humane Society,2320 Park Avenue, Lincoln, NE 68502; Kidney Foundation, 11725 Arbor Street, Omaha, NE 68144. Arrangment by Aspen Cremation Service, 4822 Cleveland Avenue, Lincoln, NE 68504.

Condolences to www.aspenaftercare.com
John was a long time member of the AMTA. He was a strong supporter and will definitely be missed. John was from Lincoln, Nebraska and attended the reunions in his area as travel was difficult for him, but he always supported the AMTA.

All of us who worked with John knew what a very caring person he was and would do anything for anyone to help them out.

John was born on August 7, 1943 and passed away on Saturday, January 19, 2013.

John was a resident of Lincoln, Nebraska.